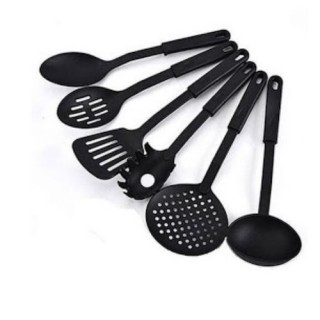 Non Stick Cooking Spoon (6Pcs)
Product Code:
Techlum
Availability:
In Stock
₦1,500.00
The silicone heads of Cooking Tool Turner Tongs Spatula Spoon cannot scratch or damage nonstick cooking pots, pans and woks like metals do. This makes them very friendly when dealing with non-stick surfaces. Cooking with the non-stick silicone utensils set will protect your cookware from any scratches.【Food Grade Material】Silicone Spatula Set are made of durable, food-grade safe materials which safeguard your health with FDA approved stainless steel and 100% BPA-free Silicone that are free of toxins and corroding particles. Smooth and burr-free, do not hurt the pot.【High& Low Heat Resistant】Kitchen Utensil Set are ultra heat resistant up fyou do not have to worry they will melt if you accidentally leave them in the pot for a while. Non-stick attributes made for hassle-free wash up. 1. Makes cooking easy
2. Very affordable 3. Made with best material 4. Home use 5. Non stick6. Can be hung in the kitchen
【Easy to Clean&Hanging】There's no head to pop off these spatulas which means healthier cooking and less clean up required. Not easy to deform, and with the stainless steel handle which suitable for hand shape, comfortable grip with a hanging hole at the end for easy storage and hanging.

【Valued Gift for Your Family】This cooking utensil set will offer you everything for all food prep tasks without costing you a lot of time and money to buy each piece individually. Coming with nice packaged box, it's a best gift for festivals, housewarming party or even Christmas.