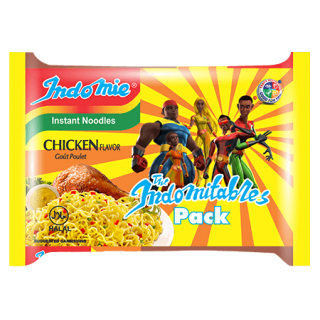 Indomie Chicken Flavour (70g x40)
Product Code:
MCPL
Availability:
In Stock
₦5,750.00
Indomie Instant Noodles
INDOMITABLES CHICKEN
The mother brand for the Indomie Family
This Pack size and chicken Flavour was the first introduced to the Nigerian Market, in order to give consumers a good taste of indomie.
It is the favourite product of kids and is popularly called Indomitables pack.
It is a
delectable
combination of chosen ingredients of chicken flavor, spices and vegetables, all uniquely blended to give that unparalleled taste and irresistible aroma. Indomie Regular Chicken Flavour is Nigeria's favourite flavor of Instant Noodles. Indomie Chiken Flavour is very easy to cook, it is rich in protein and mineral. it can be served as breakfast, lunch or dinner for both children and adult, the taste is very great and irresistible.it contains Vitamin A and Thiamine.it is affordable
The 70g Regular Chicken Flavor now comes in an attractive new packaging, branded with Indomie's superhero team,
THE INDOMITABLES!