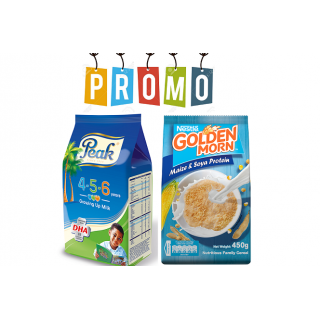 Peak 456 Growing Up Milk 400g Pouch + Golden Morn 450g
Product Code:
friesland
Availability:
In Stock
₦1,580.00
Peak Growing Up Milk Refill with DHA | 4-6yrs; 28 vitamins and minerals.
Preparing for a bright future.
New peak 4-5-6 supports your child's brain, health and growth during the important development period from 3 years onwards.
Since about 90% of your child's brain growth takes place by the time he is 5 years old, Peak gowing up milk is fortified with DHA.
Golden Morn - ENERGY for a great start to your day
A nutritious, delicious and filling cereal made with wholesome grains to energize you and your family, the delicious Golden Morn Instant cereal is very easy to prepare, all you need do is add milk! Nestlé GOLDEN MORN Maize provides you with a nutritious and wholesome breakfast fortified with Vitamin A and Iron with the added benefit of whole grains.
Buy today from Deeski.com