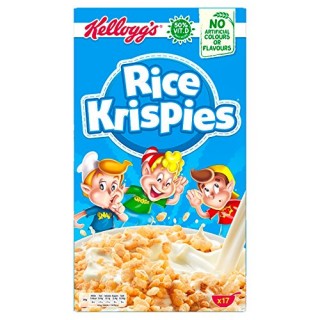 Kellogs Rice Krispes 500g
Product Code:
kellogs
Availability:
In Stock
₦2,300.00
Yummy, cripsy, fun rice cereal! You and your little ones can enjoy a tasty and delicious breakfast meal with the Kellogg's Rice Krispies made of crisped rice that can be whipped up to a pleasure bowl in whatever recipe you like.
Packed with essential vitamins and minerals to give you a great day, make nourishing servings of your Kellogg's Rice Krispies any time of the day, whether you like it with cool or warm water.
Add milk or sugar, or both just as desired to your crunchy Kellogg's Rice Krispies, and even your favourite fruits including berries, nuts, and more
Your darling Kellogg's Rice Krispies can also be enjoyed with your favourite kind of yoghurt, oh what a savoury recipe you've got.
Ingredients:

Rice, Sugar, Salt, Barley Malt Flavouring, Vitamins & Minerals including Vitamin B+, Iron, Niacin, Vitamin B6, Vitamin B2 (Riboflavin), Vitamin B1 (Thiamin), Folic Acid, Vitamin D, Vitamin B12
Storage:

Store in a dry place
About the Brand
With a commitment to nutrition spanning over 100 years, the Kellogg Company provides tasteful and ready-to-eat breakfast cereal pack after pack combining a good source of fibre and whole grain.